As I have said, I am thoroughly enjoying my new hobby. It has cheered me up on a few gloomy days & it has brought into my life a number of new friends. I don't know that I will ever be comfortable with a holster on my hip, but I would like to find some other way of outwardly showing my interest in shooting (subtly) in my daily life.
It is not my goal to take on a dark and brooding (aka "Goth") persona. I also have friends who are less comfortable with guns and the discussion of guns, and I don't want to offend them. Therefore, I have gone in search of some style ideas that will express my enthusiasm without ringing out, like a gun shot.
My first idea was jewelry out of shell casings. If you run a search on Etsy.com, you will see that I am not the first to think of this.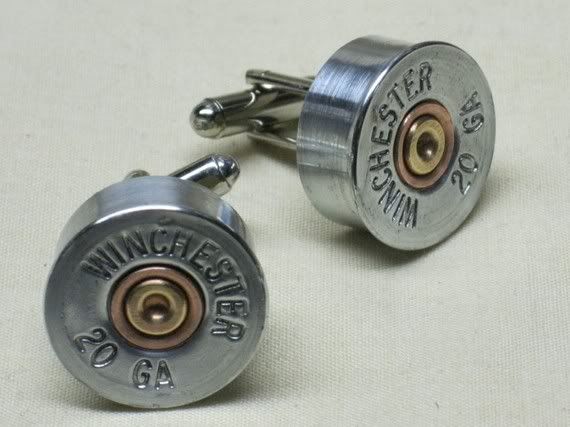 I am somewhat uncomfortable with how many people are selling pointed pieces of crystal secured inside empty brass.

But these cufflinks are well done.