Meet Meg: Pure ArmedCandy!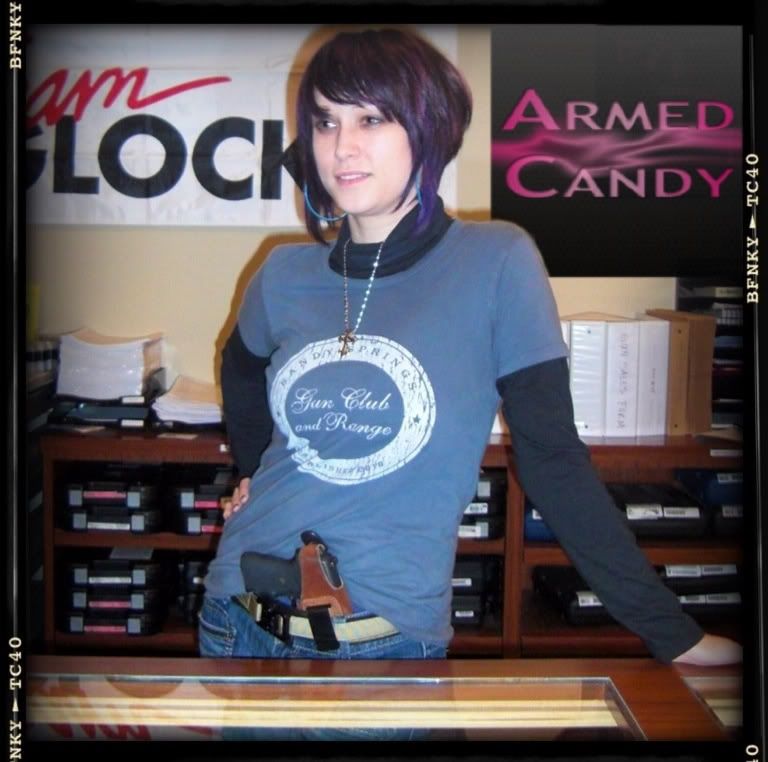 Meg is one-of-a-kind. Not, one-of-a-kind because she's a girl working in a gun range, (we all know not to be surprised by things like that anymore). She's one-of-a-kind because, well, she's Meg.
AND
, if you asked her about her work, she might talk about the range but she, might just as quickly respond, "I do hair".  She is as surprised as anybody, that this is where she goes to work, but after more than two years at Sandy Springs Gun Range, the place is deffinintly her second home.
When she first considered working around guns, Meg admits, there was some fear and a minor anti-gun sentiment, stemming from a "hippie" upbringing.  However, Meg open-mindedly joined the team at
Sandy Springs Gun Range
and quickly learned the ropes.  
Meg now carries a Sig P239 tucked into the front of her jeans, and, as she put it, "I  feel naked without it."  She enjoys her job so much that it finds it's way into conversations with friends all the time.  She encourages everyone she knows to come try shooting.  "I love to be a part of this...I love it here!" Meg states, with excitement for gunning, but also a passion for the company that employs her.  
Similar to her male collegues, Meg finds the flash of the gun exciting and appreciates the feeling of power in one's hands.  However, Meg brings a slightly different perspective to new customers at the range.  As a relatively new gunner, she can relate to the novices and easy thier minds, but as a woman she ads another element of customer service.  While all of the range staff are exceptionally helpful, Meg might be the first to offer help to new shooters, without being asked.  Sometimes a beginner might know so little, they don't even know what to ask, and this is where Meg shines.  Maybe it's women's intuition that makes Meg so helpful.
I think it is that when Meg got involved with firearms, she caught the "bug" and as she is still learning handfuls of things every day, that passion isn't going anywhere.  
Meg does have just one gripe, "I don't get to shoot as often as I'd like."
©2012-GRM