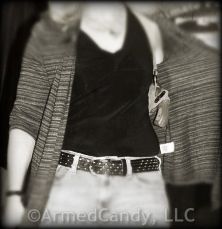 Manufacturers have been slow to bring out real conceal carry options for us gals. Yes, there have been small .380s out there for a while but I refuse to consider this round as an option for 3 reasons:
1.It lacks stopping power
2.It's often built into small guns causing the shooter to feel all of the recoil and lengthening the time to regain one's sight picture and fire a second round.
3.It tends to be a less available round and therefor more expensive, than the more affective 9mm
So, this led me on the hunt for a conceal carry 9mm. After shooting the LC9 by Ruger, I quickly ruled it out.
If you are a new shooter please do not assume that the purchase of a gun is a one step process that leads to safety.

[tweet this]
I want you to practice, A LOT. If your first gun purchase is your CCW, and you purchase a gun based solely on the fact that it is small, light and concealable, you will most like likely find, that it is uncomfortable to shoot. That was my experience with the LC9. And two years ago, that was one of the few options available.
That's how I ended up with a Glock 26. I was a decent shot with this sub-compact, provided I used a pinky extension, and I knew it could handle regular practice sessions, but I was still settling. For one thing, concealing the 26 was a chore because of the pinky extension and thickness of the gun created bumps and lumps that looked unnatural. Also, I didn't feel like I could reliably and consistently hit center mass, unless my target was less than 5 yards away. So, the searched continued.
Enter the Walther PPS 9mm. This gun was recommended to me by one of my most reliable sources. I bought it having never shot any Walther pistol. (Not a leap of faith I recommend.) But I lucked out. I love this gun. Everyone I let shoot it, loves this gun. Its amazingly accurate for a sub-compact and comfortable to shoot. The one adjustment I made to it was to install a Hogue palm swell, so that the hollow part of my palm had a bit more to fill my hands. Watch my video as I go into detail about the PPS.
Interestingly, I found that most women shopping for a concealable gun, had never heard of the PPS. I've done my best to change that. Then, at last years SHOT, Smith & Wesson introduced The Shield. A year later (plus) I still have not seen a shop that can stock these with any regularity. Though I have only had limited hands-on time with the Shield I don't recall enjoying it as much as my PPS. Yes, the M&P style grip, solves me need for the palm-swell adjustment, but my overall impression was just OK. I do not have enough information to responsibly speak about the trigger, reset or felt recoil comparison, so I won't.
Also introduced last year was the XDs. A tiny 45 that is built to impress. I shot it and liked it, but looked forward to the day that it would come out in a 9mm. My reasons? 9mm is a less expensive round than a 45. I can regain my sight picture faster with a 9mm. Also, with a smaller round in the tiny XDs, one can fit more ammunition (which is the preference).
Well my wait ended on Media Day at SHOTShow 2013 when the first banner I saw was this one:
I may have let out a little squeal.
More to come in the next edition on "Concealable 9mm Pistols"... Stay tuned
©2013 ArmedCandy,LLC
Have you read the other posts in this series?
Part II
: XDs 9mm vs. Walther PPS
Part III
: The Beretta Nano
Part IV
is coming soon!