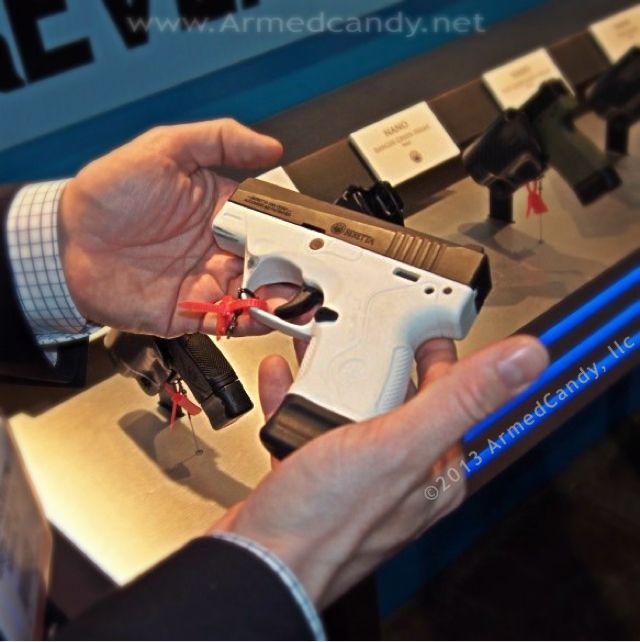 Leave it to the Italians to bring us a pistol whose color we can change, as often as we change our shoes! At $50 per frame, a fashionista could collect all her favorite flavors and be stylish AND tactical. In the summer, her gauzy peasant top and white cropped skinny jeans, won't have trouble hiding a white framed gun.
Want more?!?! Beretta has worked with Crimson Trace and Laser Max to offer no-brainer accessories that fit without any guess work. They are also partnering to bring us holsters too.
I realize that the Nano has been out for a while, and though I shot it a bit during the summer of 2012, I was yet to write about it because it was far from my favorite concealable 9mm. My issues:
1. the grip was too short for my hands
2. it has no slide lock/release (other than inserting or removing the magazine)
3. I could never pull the trigger smoothly (it'd always come back with a big fat crunch)
4. take down was complicated and required a special tool
Well, my number one concern has now been addressed! The Nano will now ship with a pinky extension on one of the two included magazines. They say:
Practice with the extension, Carry without.
Part IV
is coming soon!
©2013 ArmedCandy,LLC
There's more posts in this series! Check 'em out:
Part II
: XDs vs. Walther PPS
Part I