In my last post I hoped to help you avoid the common pitfall of "Buyer's Remorse". What I failed to share was that I have been feeling the pangs of this miserable affliction for the past few months. I wouldn't call my condition a full blown case of "B-R" but I have been doing more reassessing of a gun purchase than makes me comfortable.
When I bought my first pistol, the CZ 75B, I felt confident that I was making the right decision. Over time my confidence was confirmed, both by my enjoyment of the gun and those with whom I discussed, and/or shot it. Yes, buying a gun is a very personal selection process, but it doesn't hurt to hear others reaffirm your choice.
However, I soon realized that the CZ 75B is not a carry gun, and if I was going to attempt to carry concealed, I would have to start the shopping process again. I'll spare you the long winded details of the search, and conclude that I eventually bought a used Glock 26 from a fireman at a Texaco station about an hour outside Atlanta. (I'll be sure to share that story another time.)
After some time, and a number of failed carry attempts, I realized that the 26 wasn't really working for me, so I began considering other options. Sure, some would have looked for a new carry gun, but not given up the 26. After all, the 26 is a great little gun. There's very little reason not to have at least one Glock in a collection. However, my budget couldn't handle that scenario, so when I found my Walther PPS, the Glock 26 found a new home.
After buying the PPS I felt no Buyer's Remorse. Others who shot it, agreed that it was a great carry option. My accuracy with it, was not as good as my CZ, but that was to be expected and I probably needed more trigger time. In my estimation, the PPS, at the end of the 2012 summer, was one of the best carry options on the market.
But then SHOTShow 2013 happened! As you know, I spent some time with the new XDs 9mm at Media Day. Since then, I can't stop thinking about that little gun. Not that I'm not happy with my Walther, I am, but my accuracy with the XDs was so natural, that it got the wheels in my brain turning. And so, I am feeling some
buyer's remorse
. Since my budget still won't allow me to have both, I've got a problem.
To keep you from the same fate, I have created a shopping chart. On this sheet you will find many details to consider. Some will matter to you, some will not, but if you narrow your selection and then fill out this sheet for each option, you may be able to avoid the dreaded...
Buyer's Remorse
.
Pistol Shopping Chart by ArmedCandy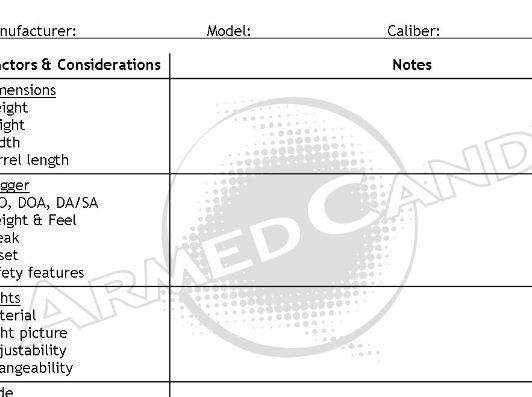 ©2013 ArmedCandy,LLC