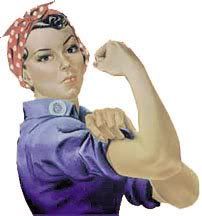 The other day I heard a story about a girl who has a man in her life who is verbally and physically abusive. He comes to her house, for what appears to be an innocent visit, speaks kindly to her roommate, but as soon as the other person leaves the room, he says horrible things to the girl and puts his hands on her. When the roommate returns he becomes sweet again and so, the roommate doesn't believe her. The abuser knows that the girl has no car and takes the girl's phone so that she is unable to call for help or easily get away.
When I heard this story I immediately asked, "Why doesn't she run to a neighbor's house? Why does she let him in? ..." But I began to realize that this girl lack's the emotional strength to help herself. I don't know her, but I automatically want to defend her. I want to tell her to get out of there! I want to go over and play bodyguard for her. But then I rethink my reaction. It won't help if I sit at her front door with a pistol on my hip. This is her fight. She has to chose not to be a victim. So again I thought,
How can a girl like this be empowered to be a strong woman?
I was raised to walk out, the moment a man shows any signs of being abusive. I have also never had a girl friend who has been unable to extricate herself from such a situation, so I don't even have practice in advising such a girl. Let's credit my mother with showing me what a strong, independent woman looks like, during my formative years. While I want to sit with this girl, talk to her and empower her, I have no idea how to go about this. I can say all the things I know are important, but this girl need to pull herself up, and I don't know how to inspire this.
My instinct might be to take her to the shooting range. I believe that, might help her begin to feel strong. However, the reason this idea makes me nervous, is because I wouldn't want this girl thinking that buying a gun for herself, at this point, is a good idea. I think of all the domestic violence cases that end in the abused being killed because she didn't have the strength to defend herself when the time came. I imagine that introducing a firearm to this situation might only make this scenario more hazardous to her. (True to my mantra: Buying a gun will not keep you safe.)
So I pose the question to all of you: How can this girl be helped?
©2013 ArmedCandy,LLC