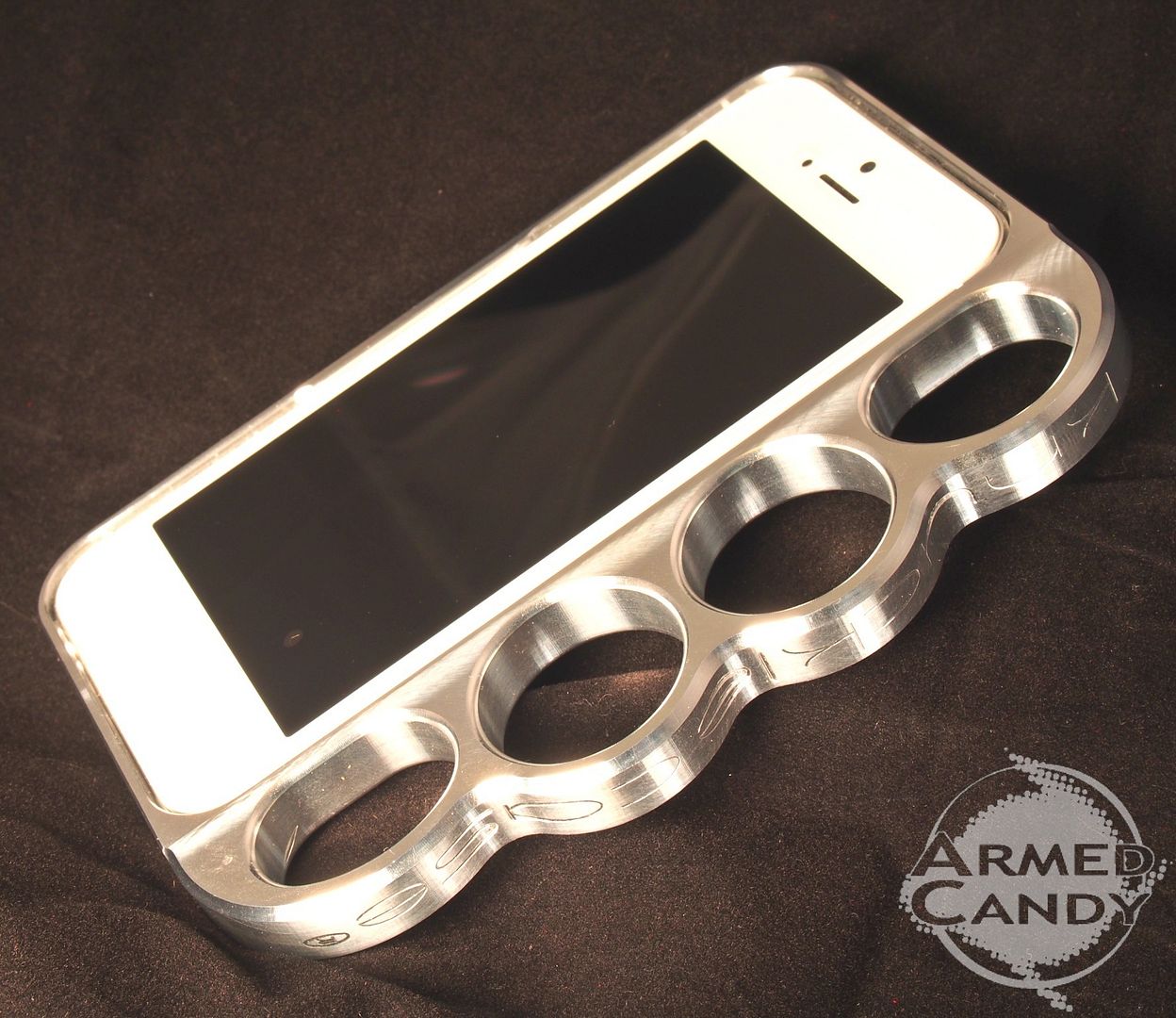 "I can't live without my iPhone" used to be a shallow statement made by the overly connected... Until the
Knucklecase
! True, it's not a gun, but I defy you to name any other self-defense tool that you might keep in your grip almost all day long. The manufacturer clearly states on their website that the Knucklecase is only a handle, not a weapon, and I will repeat this, so that nobody sues me. However, if you have a solid aluminum item, shaped like brass knuckles, in your pocket and you find yourself under attack, please, you it! The case would be really handy for those in cities where concealed carry is especially tough. (That's a hint to my sister in NYC and a certain gun-girl in LA who lives on her phone *wink wink*.)
The Knucklecase is stylish all on it's own, but in case the finger grips don't inspire you to hold your phone constantly, you have other options. You could take a carabiner and hook your phone to your belt, if that's how you roll. I can see some wannabe-commando wrapping the finger holes in paracord and rock it all day long. (I say "wannabe" because a
real
commando would just throw their phone in a big fat Otterbox and call it a day.) But if you're a huntress with an iPhone 4, they have a forest camo finish especially for you!
Other pros of the Knucklecase:
• All those iPhone snatchers out there, will pass you by, when they see what a firm grim you've got going on. (Caution: If they do try to snatch your phone, they may break your fingers trying to get it out of your hand. Please be aware of your surroundings!)
• I'll be far less likely to drop my phone with this case on it!
• solid aluminum is as light as most other cases, but strong enough to back up your fist if you need to throw a punch
• still fits in my back pocket because it doesn't add much thickness or length and only about an inch to the width
• deep cut openings for ports and side buttons will keep pocket dialing to a minimum
• wide selection of colors and finishes
• eased edges around finger holes make for a comfy grip
• I can hang my phone anywhere I find a hook!
• I can suddenly shoot photos one handed, Hurray!!
A few cons:
• It may protect your phone from bumps and scratches, but there's very little shock absorption built into this case
• I would recommend a front and back cling shield to keep away scratches
• The finger holes are on the right hand side, this means you will be predominantly holding the phone in your left hand. If you're not cool with that, tuff.
• The website warns, the TSA will take this case away from you in a heartbeat, so don't say they didn't warn you.
©2013 ArmedCandy,LLC