By Gabby for Gun Nuts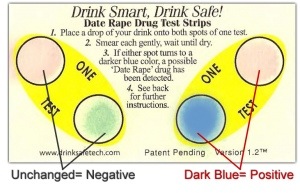 I've mentioned date rape drug test products once before, but since they are now talking about it on my "favorite" hour of the Today show, I think I should address it again (and in more detail). Ladies, there are just too many ways for us to get hurt out there. Unfortunately, we may seem like good targets for any number of reasons, and there are lots of creepers who are ready to take advantage.
Drinksmart.com
has come up with these little coaster/cards for us to carry and use, if we believe someone has "tampered" with our drink. You take a drip of liquid from your glass and drop it on the card and if the dots change color, get your butt to a hospital.
When I first posted this technology, I imagined a woman in a bar, ordering a drink, leaving it on the bar while she walked away, returning to her drink and taking a big gulp. In this scenario it seemed ridiculous for this absent-minded chica to start holding a mini chemistry class right there at the bar. It's reasonable to assume that the girl who remembers to carry these cards is unlikely to be the same girl who would be absentminded enough to leave her drink lying around. However, in the months since I first heard about this Israeli invention, I happen to have dated a "sleeper creeper" and I'm sure he's not the only one out there.
Read more at
Gun Nuts
©2013 ArmedCandy,LLC