By Gabby for Gun Nuts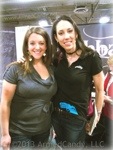 Last Wednesday, I posted about me and my fellow firearms industry women. I blamed ladies for cattiness in the workplace, based on what I have seen occur in other industries. Unfortunately, I started that post with the sentences,
"There was probably an audible grumble, the first time a woman took a job in this industry. Regardless of whether they were excited about it or not, men have slowly, accepted the change."
This opening line, seemed to throw off most of the gun nuts who read the post. What I meant by these sentences was that I wouldn't blame guys for grumbling. It can sometimes be difficult to work with women. They can often be nasty to one another.
read more at
Gun Nuts
©2013 ArmedCandy,LLC