By Gabby for Gun Nuts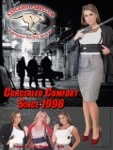 People often ask me how I conceal carry. I usually tell them that it's a work in progress and what I mean by this is:
1. I am yet to find any method with which I am fully happy.
2. I don't think women, who wear different outfits on any given day, that hug their bodies differently, can rely on just one method of carry. Two or three would be probably be a more reasonable estimate.
So, after my lament about my concealed carry experience in North Carolina, I was contacted by a company who asked if I wanted to try something compleatly different. Being the open-minded girl that I am, I said "Sure" to
Kangaroo Carry
of Houston Texas.
Read more at
Gun Nuts
©2013 ArmedCandy,LLC