By Gabby for Gun Nuts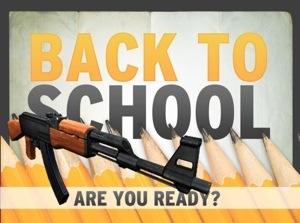 This morning the AP is reporting that yesterday "Michael Brandon Hill" fired at least six rounds at police from his "assault rifle" an AK47, while demanding that the elementary school staff members, who he was holding captive, call a local television station. As policed swarmed the school in Decatur GA, the suspect dropped to the floor and surrendered.
Hill is being charged with aggravated assault of a police officer, terroristic threats and possession of a firearm by a convicted felon. The school, which has a buzz-in door system, believes that Hill must have followed an authorized person, into the building. No children were harmed yet crying parents are plastered all over the news.
Read more at
Gun Nuts
©2013 ArmedCandy,LLC