By Gabby for Gun Nuts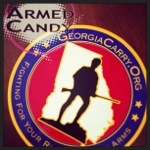 Last week I shared the begining of a talk given by gun expert and instructor Claude Werner at the Georgia Carry.org convention recently. I'd like to continue the discussion of how each of you continues your training once you leave the classroom and share some of the tips I learned from Mr. Werner.
One of the first things Claude shared with the group nearly floored me. He said he was in the midst of a commitment to complete 100 days of consecutive dry fire practice sessions.
Read more at
Gun Nuts
©2013 ArmedCandy,LLC