By Gabby for Gun Nuts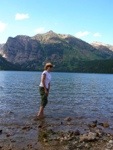 This weekend I helped put on a Jewish life and learning festival in the North Georgia mountains. It was a complete success and Immvery proud to be involved with the organization. People came from as far as South Africa but the majority of folks were Atlantans.
Maybe it is the setting of the event, but every year this annual weekend long celebration, tends to attract a strong contingent of liberal hippie types. Because of this, I have been repeatedly warned, "don't over-do the gun talk..." Or "you may not find too many people who agree with your gun politics at this event..." Of corse, I'm prepared for this, I grew up in New York City after all, and go back there often.
Read More at
Gun Nuts
©2013 ArmedCandy,LLC