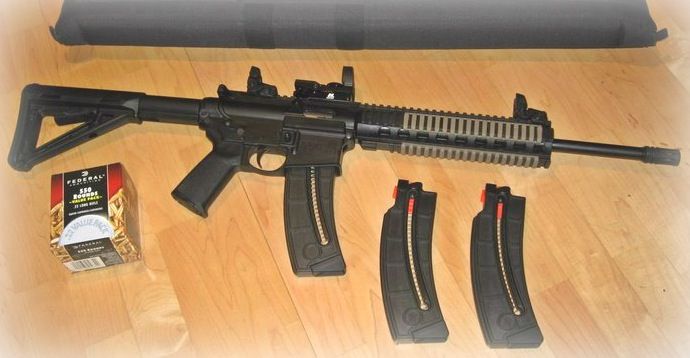 Gabby's recent article,
Buyer's Remorse
, made me realize my biggest problem with gun collecting;
Seller's Remorse
. Over the past few years I have purchased and then sold a number of guns, pistols and rifles. Rarely do I regret buying a gun, but I always seem to regret selling one. In fact, I regretted selling one gun so much that more than a year after I said farewell, I went and purchased another one.
The second gun that I ever bought was a Smith and Wesson M&P 15-22. It is a
super scary, ultra-tactical, assault rifle-like, semi-automatic black gun
(please note the sarcasm) that shoots .22 lr rounds and only .22 lr. It is an amazing rifle which can be used to hunt small varmint, teach new shooters and simulate AR-15 training with rounds that cost 1/10th of what .223 rounds currently sell. It matches a standard AR-15 in looks, size and operation (including a fully functional bolt-release). In Georgia, they come with collapsible stocks and a 25 round magazine. If you spend a little extra money, you can get one that comes equipped with a bunch of Magpul accessories.
The 15-22 comes with a standard picatinny top-rail and fore-end on which you can install any scope or red-dot sight, forward grip, lights, lasers, etc. I can't say enough good things about this gun. Yet for some reason, a reason I can no longer remember, I sold mine.
So, when I walked into the range yesterday and saw
my
gun sitting on the shelf; all shiny and new, I bought it without hesitation. I had been wanting another .22 rifle for a while and there will be no regrets this time. I'll probably keep this one until it falls apart. The moral of the story; Think before you buy, BUT ALSO, before you sell!
©2013 ArmedCandy,LLC