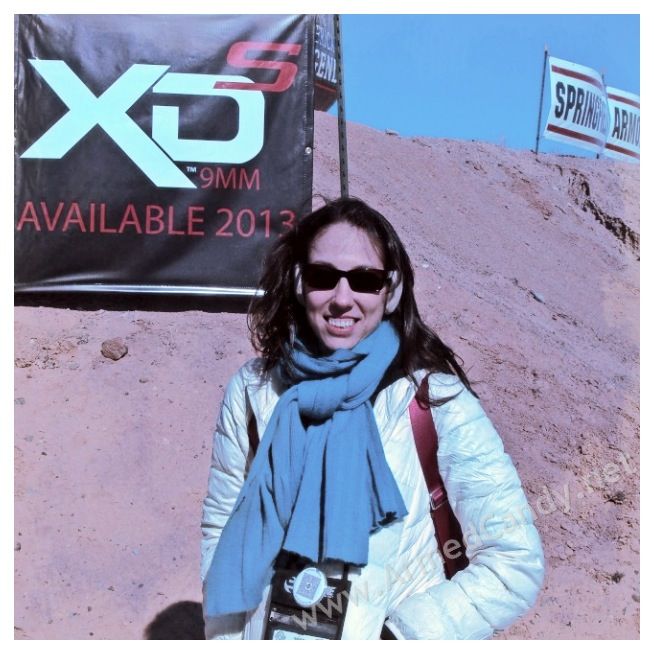 Yep, I was giddy when I saw that sign. The XDs 9mm was within my grasp! Since shooting the XDs .45 I had been saying,
"I am gonna love that gun in a 9

,

"
so I went into the Springfield tent with high hopes.
To be clear, I already own a
Walther PPS
, which I am very happy with, but if I were in the market, I'd have a tough time deciding.
In the side by side comparison, it's hard to tell these two apart:
The width of the XDs is similar to my PPS, both are under an inch. Barrel length is almost identical, and overall height is actually identical.
Both have a rail for attaching accessories, interchangeable back-straps and similar round counts, of 7+1.
The interchangeable back-strap on the PPS is actually a "Quick-safe", incapacitating the Walther, when it is removed.
The magazines on the XDs are both flush 7 round capacities. The Walther PPS comes with two magazines, one of which holds 7 rounds while the other holds 8. Both of these magazines have attached pinky extensions, and a 6 round flush magazine can be purchased (but its pricey) through Walther. (Hopefully this will change now that Walther has broken away from S&W.) I think I prefer the ability to go even smaller with the PPS, though to-date I have not shot my PPS with the 6 round magazine installed.
The sights on the XDs are more impressive, with a fiber optic front sight coming standard.
Safety features for each gun are similar when comparing the trigger, but as with all in the XD line, there is a grip safety on the XDs.
Small guns, like these, often require an adjusted grip which shooters may forget.
If not held correctly, malfunctions can occur. The grip safety on the XDs
may
help counter this. The PPS has a "cocked indicator" which appears as a red dot through the back plate on the slide.
Some have complained to me that the Walther magazine release, hinging from the base of the trigger guard, is awkward. To this I say, "Eh! You'll get used to it!" Or, you'll find an XDs with a
normal
mag release
.
When shopping for a pistol, it's good to have more than one model or brand that would make you happy.
Similar to buying a car or a house, this gives you a slight advantage in negotiating. (Unfortunately, even with this tip, it's unlikely that you will have much negotiating power in our current firearm market.) The XDs and the PPS are so similar, I love them both. As I have said, I added a palm swell to the grip of my PPS making it fit my hand to a T. Would I do the same to an XDs? I'm not sure. I'm also not sure which has the best trigger. This information would require a more in-depth and side by side trigger time comparison. (A job I am more than willing to do for you, my readers!) What I can ascertain from my short experience with the XDs at Media Day, I like shooting it a lot. Though I've owned the PPS for about six months, my shots are never as dead on as they were from the moment I picked up the XDs. I am yet to pin-point the exact reason for this, but I'll keep working on it. Based on my groupings with my Walther, I would assume that I am jerking the trigger ever so slightly. Maybe the trigger weight of these two is considerably different.
If you're in the market for a 9mm concealable pistol. The XDs and Walther PPS are both great options! The bigger question will be, which can be found? The PPS has been around since 2007 which would usually mean that it would be easier to track down than the brand new XDs, but I believe they are going to be equally tough to find any time soon.
Next up, will be the Beretta Nano's upgrades for 2013! Also, CZ-Custom now has an option for you as well! ...
Coming Soon ...
©2013 ArmedCandy,LLC
Have you read the other posts in this series?
Part I
Part III
: The Beretta Nano
Part IV
is coming soon!