By Gabby for Gun Nuts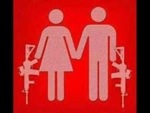 Last week's "Dear Gabby" inspired some follow up questions so I'd like to address those, and I hope other female readers will chime in, to help the guys gain some clarity on this issue.
Some women have discovered that yes, the range is a great place to meet men. Other women feel that because they are serious about shooting, they will not mix flirting and firearms. There is, however a third group of ladies, those that both, take shooting seriously, but would also be happy to meet a gun guy they could call their own.
So how can men tell if a woman is into him, or his guns?
Read more at
Gun Nuts
©2013 ArmedCandy,LLC